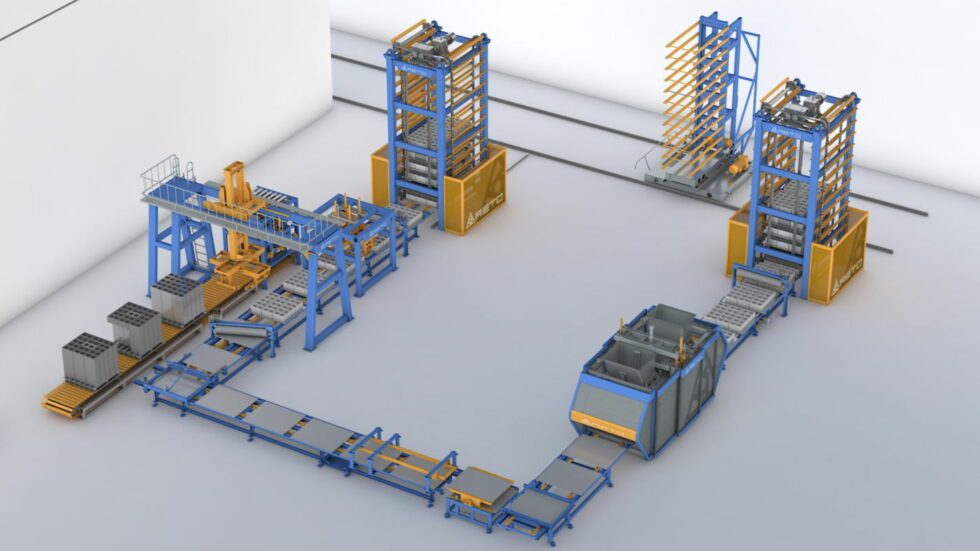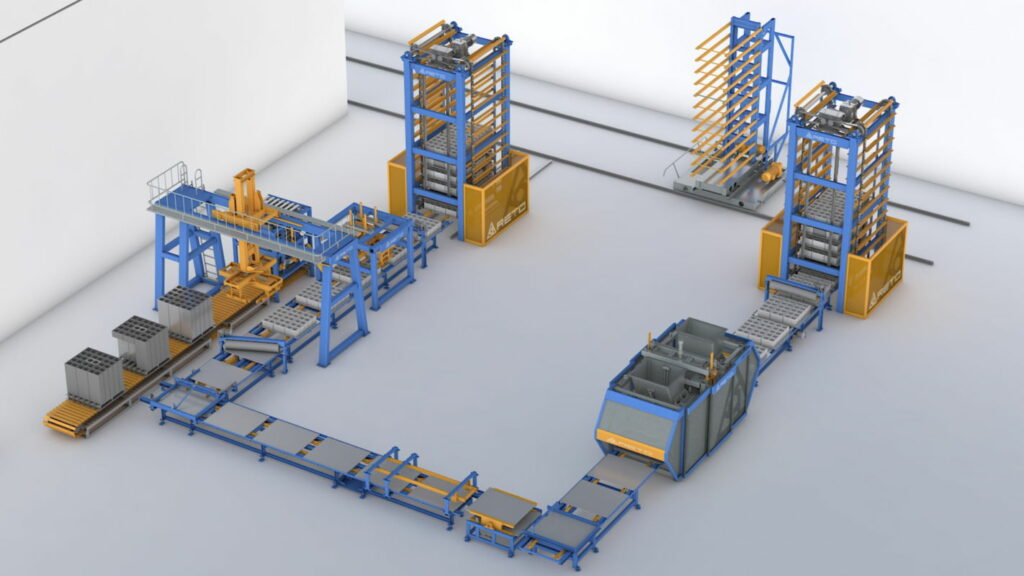 Full automatic block machine can produce all kinds of concrete building blocks, such as hollow brick, solid brick, bricklaying and facing brick.
Various paving bricks, such as chain brick, square slab and curb brick; Slope protection and dam building blocks used in water conservancy industry.
And various special concrete components for parks, airports,docks and other purposes. In addition to ordinary concrete as raw materials, various wastes such as fly ash, coal gangue, slag and treated solid waste can also be used as raw materials.
The full-automatic block machine is suitable for manufacturing high-quality concrete blocks and can meet the requirements of users for all high-quality concrete processing.
The equipment can use fly ash, slag or other industrial waste residue, sand, stone and cement to produce various concrete building blocks such as blocks, color floor tiles and curb stones by changing molds.
Main structure and technical features:
super strong section steel and international advanced welding technology are adopted to make the body firm and durable.
 composite motion rapid distribution system (ruitu patent), with fast and uniform material filling mold and short forming cycle, is especially suitable for the production of light aggregate such as fly ash.
ensure that the double shaft high-efficiency vibration system (ruitu patent), the amplitude and exciting force can be adjusted steplessly, so that the products can achieve the best compactness and improve the strength.
high efficiency vibration isolation system, the vibration force transmitted to the frame and foundation is very small, which is very convenient to use and install.
change the mold at will, select the secondary distribution device, produce products with surface layer, produce multiple varieties and use one machine for multiple purposes.
the hydraulic system adopts hydraulic components imported from Taiwan and Japan, integrated hydraulic station and automatic oil temperature adjustment to ensure the continuous operation of the equipment for a long time.
The control system adopts the international brand Siemens PLC control, and the electrical components are provided by world-famous companies, with reliable operation. It has three operations: automatic, linkage and manual, and electronically displays the fault point. Convenient maintenance.
The appearance design is reasonable, the simple workshop can be matched, the investment scale is small, the production organization is flexible, and the products can adapt to a wide range.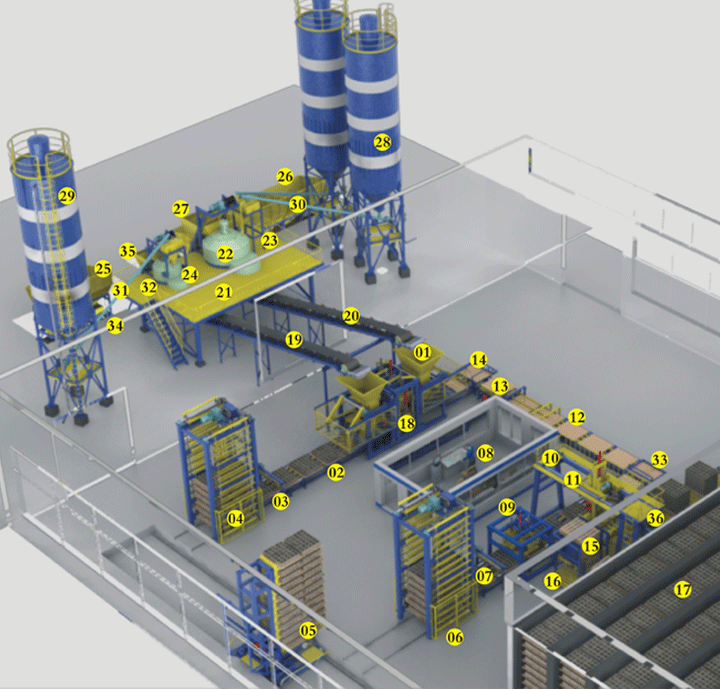 1. Molding host
2. Lifting plate pitch machine
3. Product brush
4. Plate lifter
5. Program controlled letter car
6. Board lowering machine
7. Plate lowering pitch machine
8. Central control room
9. Full code device
10. Stacker
11. Pallet cleaning device
12. Pallet pitch machine
13. Turnover machine
14. Pallet bin
15. Pallet warehouse
16. Finished product conveyor
17. Curing kiln
18. Internal board lowering machine
19. Bottom discharge belt
20. Fabric discharge belt
21. Mixing platform
22. Primer mixer
23. Primer cement scale
24. Fabric mixer
25. Fabric batching station
26. Bottom material batching station
27. Bottom material elevator
28. Cement silo
29. Cement silo
30. Cement screw conveyor
31. Cement screw conveyor
32. Fabric color weighing system
33. Pallet collection bin
34. Fabric cement scale
35. Fabric elevator