About Brick/Block Making Machine manufacturer
Established in 1999, listed on Nasda in 2017, BEIJING REIT TECHNOLOGY DEVELOPMENT CO., LTD. (called REIT) is the first Chinese concrete block machine manufacturer listed in United States.
Over the last 25 years, BEIJING REIT focuses on the R&D of auto block producing technology and today REIT has become the worldwide leader in AUTO block machine manufacturer. Our brick machinery include five major systems of fully automatic production line,Batching & Mixing Plant, Compacting and Vibration System(Block Machine), Handling System, Cubing System, Control Group.
Due to the highest quality and first-class performance, more than 10,000 customers all over the world will continuously benefit from REIT's expertise and know-how day after day, for more than 25 years.
REIT company is able to provide a wide range of products to our users, from the simple automatic production line to the fully automatic production line, from middle class to high class.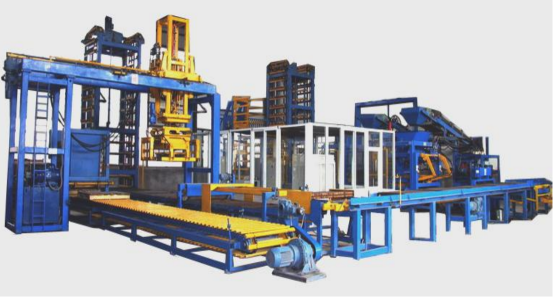 The newly designed high-performance auto block machine RT15A forms the centrepiece of a state-of-the-art and efficiently working concrete block production. The wide range of production possibilities meets all customer requirements. RT15A comprises the production of niche products, gardening and landscaping products as well as pavers, kerbstones and bricks.
In addition to high quality and productivity, our engineers put special focus on guaranteeing a low-maintenance and trouble-free production process. Owing to the continuous use of screw fittings, all wear parts can be easily exchanged within the shortest time. Based on the screwable design of the vibration table, the motor cross beam and the frame side parts, this machine is unique on the market as it adapts to the customer's production conditions.
An automatic quick-change system for moulds, various Colormix equipment and other special equipment as well tamper head cleaning devices complete our delivery programme.
Moreover, the plant is equipped with a revolutionary control and diagnostic system which provides all-around support for the machine operator and therefore always guarantees an efficient production.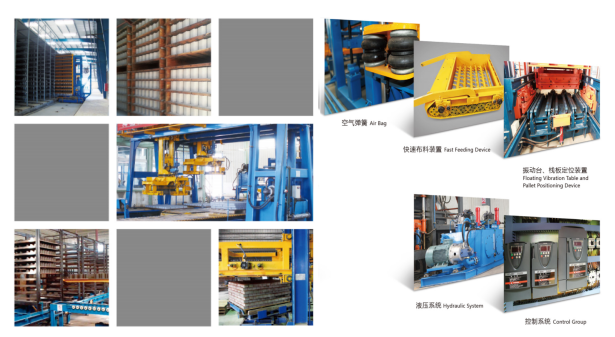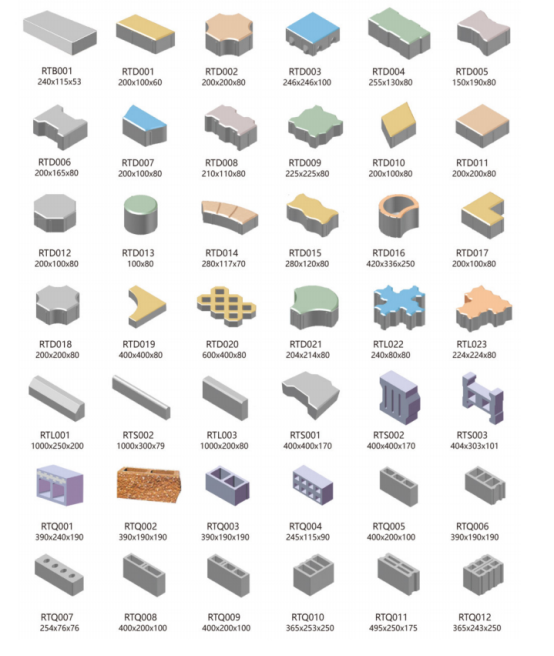 Auto Concrete block Machine, Type RTQT15A, operated with steel pallets
Fully automatic Capacity Table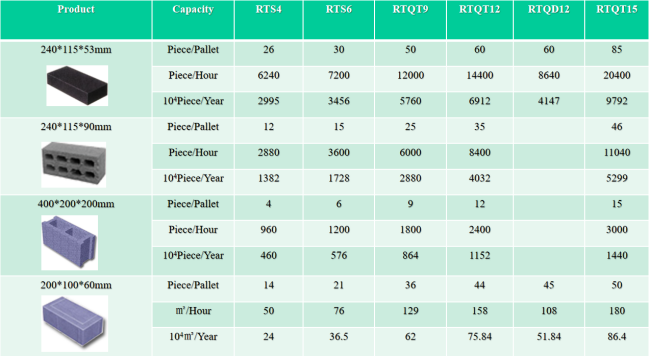 Features:
(1) Servo Vibration – Ultra Dynamic – Driven with Frequency Controlled Servo Motor:
Good vibration behaviour
Good adjustment of nocker bars
Service-friendly owing to bolted fittings design
A simple exchange of individual vibration supports
With four additional bellow cylinders to reduce the clamping power in the case of difficult, thin-walled products.
In the case of repair, the screwed-in vibration table beam can be completely exchanged. No additional cutting, burning or welding is necessary.
The vibration motors can be individually controlled with mature, acoustic diagnostics
The air pressure to be installed is chosen via the visualization and then stored product-related
(2) Central Pneumatic Control Station of Concrete Products Machine
Pneumatic board to supply all consumers installed to the Concrete Products Machine.
A compressor to supply the pneumatic board with compressed air is provided as the customer requirement.
(3) Pneumatically Operated Quick Mould Change Tamper Head for Concrete Products Machine
Integrated tamper head locking releases the tamper head during the de-moulding process. Mechanically operated synchronisation is equipped.
(4) Hydraulic Assembly of the Concrete Products Machine:
Use of output-controlled axial piston pumps instead of cell pumps;
Use of proportional control valves with integrated electronics for continuous pressure and speed adjustment;
All valves are located in a maintenance-friendly work height on a service station close to the block machine;
Maintenance-friendly and mature hydraulic installation on the machine and hydraulic power pack. Owing to intelligent cabling, the installation is especially time-efficient during maintenance and service.
(5) Feedbox Encoder for Digital Measurement- Base Mix
Includes: Rotation pulse transmitter c/w mountings, etc.
(6) Base Mix Feeding Device I for Concrete Products Machine
Standard design with independently operating pneumatic scrapers at the front and back of the feedbox. The movement of the feedbox is controlled by a proportional valve. The agitator oscillates, horizontally positioned.
(7) Base Mix Machine Hopper I for Concrete Products Machine
A, Standard design with hydraulically operated hopper flap.
B, Filling volume: 1800L (base), 1000L (face)
In 2001, REIT's first RT6A full automatic concrete block production line was successfully developed and operated smoothly with customer.
In 2005, REIT's first RTQT15 block making machine was successfully developed and launched in the market; RT6A full automatic concrete block produciton line was exported to Pakistan, suggesting that China designed and produced full automatic bricks production equipment entered into the international market for the first time.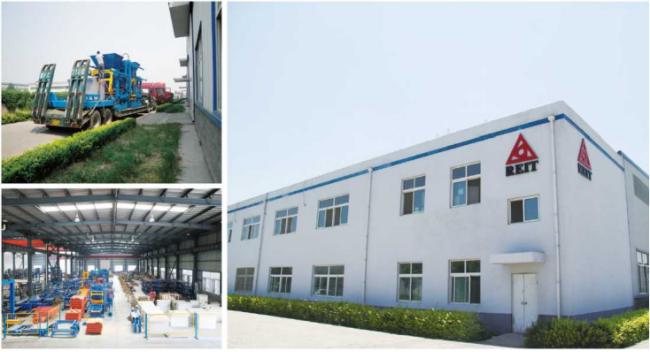 If you're interested in our products,just send the inquires to us or pick up the phone and call us!