Despite the Covid 19 pandemic, production lines at Beijing REIT Company are running at full speed.
Besides several circulation systems for customers in Europe, West Africa and South Asia, three fully automatic RT15A, RT9A and RT6A block machines departed the factory gates in the direction of customers. These were orders in connection with numerous mega real estate development projects being carried out in the countries.
In view of the rapid population growth in the world, numerous mega real estate development projects are taking place following the example of the high-tech cities. The national governments has invested heavily in relevant production technologies in order to meet the enormous demand for construction materials and to drive technological progress in the country forward. In this context a call for tenders for precast concrete production systems was launched, in which many well-known manufacturers took part. The selection criteria focused mainly on innovative technologies and high productivity.
The fully automated circulation systems with high-performance single pallet machines REIT BLOCK MACHINE were selected. The government contracts were turn-key projects, in which REIT supplied all system components, from the mixing unit to the production systems, right up to the curing chamber. The whole endeavour was carried out in cooperation with REIT partners, like Q GREEN and others.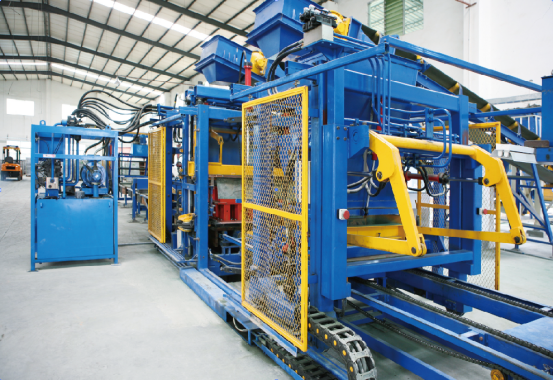 Since the auto block machine REIT RT6A has been introduced in 2001, more than 200 circulation systems have been installed and the machine has been successfully established on the global market.Its technology has been continuously advanced over the years and the machine has been equipped with numerous additional features to enable an even more efficient and user-friendly production. Special attention has been paid to productivity, user-friendliness, ease of maintenance and product quality. A particular advantage is its high output quantity combined with continuous high product quality.
The single pallet machine REIT block machine covers a wide range of production possibilities. A variety of special niche products, products from the gardening and landscaping sector as well as paving blocks, kerbstones and masonry blocks can be manufactured. Different versions of pavers, hollow blocks and kerbstones were firstly produced in these projects. At this juncture, recycling materials such as Fully Auto Block Making Machine construction waste and residues from marble and granite are being processed into precast concrete products. The moulds were sourced from REIT itself. The superimposed load has been designed to be compatible with moulds from other manufacturers for those customers who already have a stock of existing moulds. As a special addition, the machine has been equipped with a polystyrene insertion device.Therefore, special insulated blocks with a polystyrene core that are being increasingly utilised in the region can be produced.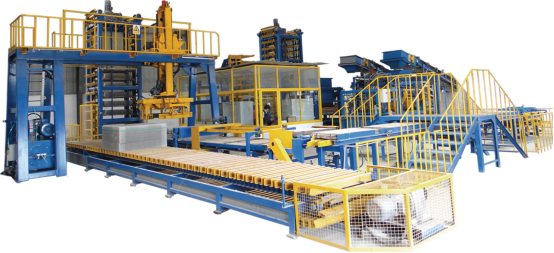 As for the control unit, the Siemens control system has been employed like in all REIT machines since 2005. Numerous innovations have been developed in the course of the R&D cooperation between REIT and Siemens and the system has been equipped with the latest Industry 4.0 standards. All system components and processes can be controlled and optimised with this advanced control unit. The self-explanatory and intuitive REIT visualisation concept is utilised to ensure that machine operations are very easy to learn. A new diagnostic concept supports the operator in setting up the machine at its optimum state.
This means that time-consuming troubleshooting is now a thing of the past, thereby substantially reducing downtimes. By using new database technology, all information can be recorded, evaluated and archived. This data can be called up from anywhere thanks to the complete networking of the system. On top of this, a further future-oriented step towards user-friendliness has been taken with the innovative Siemens Operator Panel.
The innovative Ultra-Dynamic servo-compaction system facilitating extremely high compaction with concurrent enormous dynamics has been utilised. This enables production to be rapid, efficient and of high quality at the same time. The compaction system has been developed in cooperation with the renowned louisiana Tech University and works with the latest SEW servomotors, which can be adjusted extremely rapidly and precisely.Its advanced vibration motors don't require an oil bath and additional cooling. If necessary, they can be replaced very quickly without the time-consuming assignment of a REIT service technician.
The filling boxes for base and face concrete are equipped with runners with replaceable wear plates to ensure a high degree of maintenance friendliness. These parts can be easily exchanged and thereby costs and installation work substantially reduced. The filling box runners have been redesigned so that dust deposits and ensuing wear is minimised. The cross beam has also been redesigned and allows the removal of cylinders individually from the side.
This again translates into much more rapid and less physically intensive maintenance work. The newly developed REIT cylinders are a further added value. These maintenance-free, reliable cylinders drive both the mould and superimposed load. They make an important contribution to achieving very good system availability thanks to their short removal and installation times and very low susceptibility to interference.
The REIT block machine bolted frame is another advantage ensuring a long-life cycle of the machine.
Bolted connections, which provide the stability needed and at the same time assure a certain flexibility, have been utilised throughout the frame structure. This prevents cracks in welding seams that could occur over time.
The system also facilitates an enormously high energy efficiency. The vibration motors can operate particularly efficient thanks to the compaction system's dynamic management. The vibration table's design enables vibration forces to be distributed and exploited very well. Energy from idling cycles can be stored and fed back in through the use of energy storage devices. Due to numero
us improvements, it has been possible to reduce the energy consumption of the high-performance single pallet machine REIT Block Machine significantly.
The projects have been realised with the REIT partners.We employs a local widely diversified team of engineers in some cities and takes care of more than 100 cities customers in the world. REIT service covers all processes such as conception, installation and maintenance of production plants. As in case of the current projects, turn-key projects are being built as well.
The manufactured construction materials will be employed in building up modern infrastructure in former desert landscapes. This will include numerous educational institutions and industrial zones in addition to residential areas. Beijing REIT is delighted to make its advanced technological solutions and expertise available to the nation governments to master this enormous challenge.